Best of the Best
---
The Best of the Best: Fifty Years of Communications and Networking Research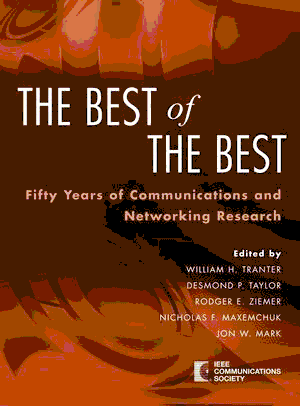 Edited by
Tranter, William H., Taylor, Desmond P., Ziemer, Rodger E., Maxemchuk,Nicholas F., Mark, Jon W.
The culmination of a half century's work from the most distinguished researchers in the communications and networking field.

To mark its fiftieth anniversary, the IEEE Communications Society (ComSoc) culled five decades' worth of articles from its various journals to present a through, single-volume retrospective of the most notable works. The Best of the Best: Fifty Years of Communications and Networking Research presents fifty-six papers, divided into two categories-Communications and Networking-and grouped chronologically. This landmark resource provides readers with:
Research articles that have set the standard for quality, selected from the most respected journals in the field
An introductory essay by the editors that explains the selection process and puts the collection in historic context
Selected by a team of today's finest researchers in the field, each of the featured articles is a milestone unto itself. For everyone interested in communications and networking research, The Best of Best serves as a guide to the field's history and as a benchmark for future research.
New York: Wiley-IEEE Press, 2007, pp.692.
Contents
Physical and Link Layer Aspects of Communications






















































































Networking

































| Home | About Us | Resources | Online Resources |
| Online Catalogues | RC Services | CAS |